Biography
Born on the 5th of  December in Basel / Switzerland. After graduating at the Basel school of design, Susanne Montoro moved to Berlin in 1992 and has been working as a freelance Airbrush-Artist since then. She can put whatever motif you want onto any surface: Wall design, custom painting, logos, photorealistic portraits, bodypainting and one-day tattoos, product design, restorations and all kinds of surface imitations.
In 1993 she introduced a completely new style called "OPTIK-DESIGN" and she had it patented in 1997. Her 10 best drawing designs have been filed as representative samples and "MONT • ORO®" is registered as a brand at the German patent office.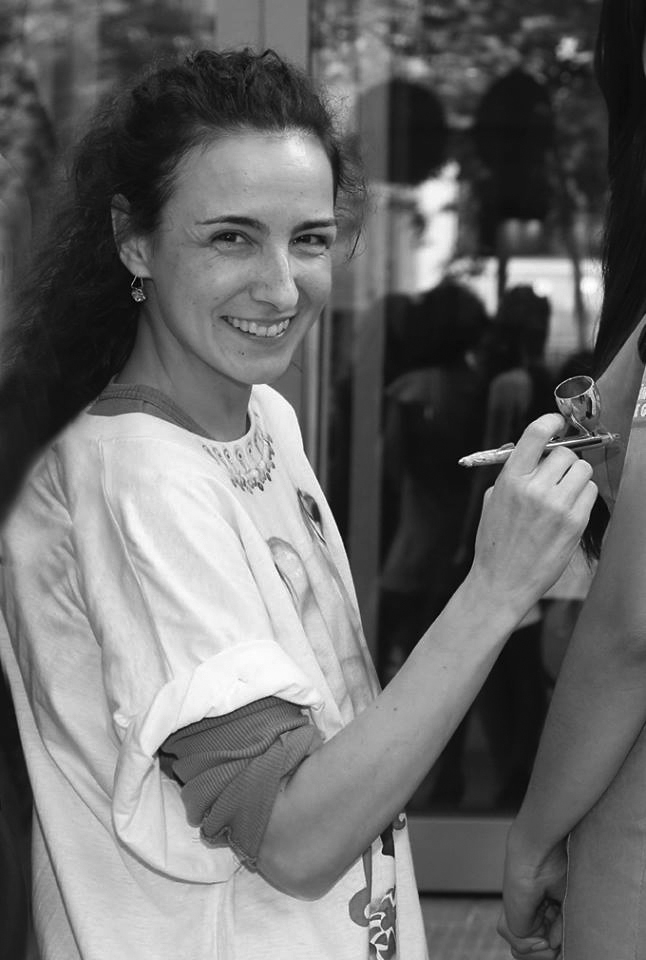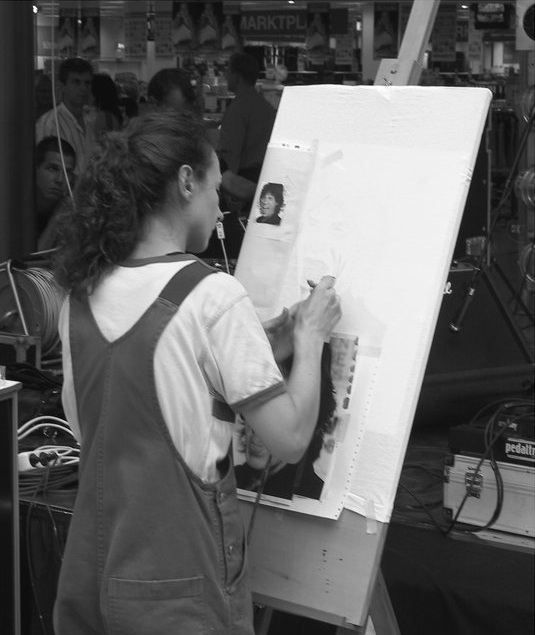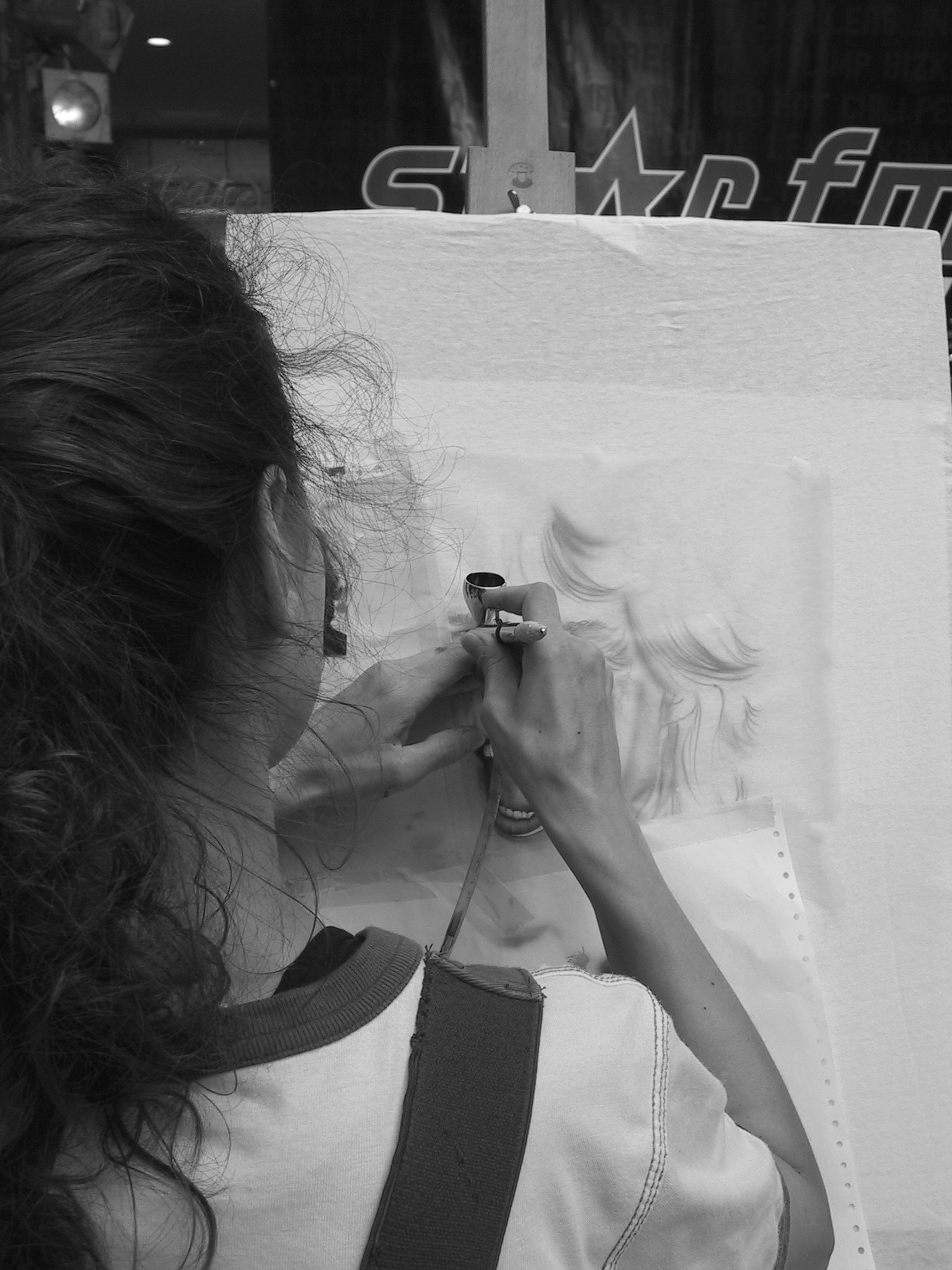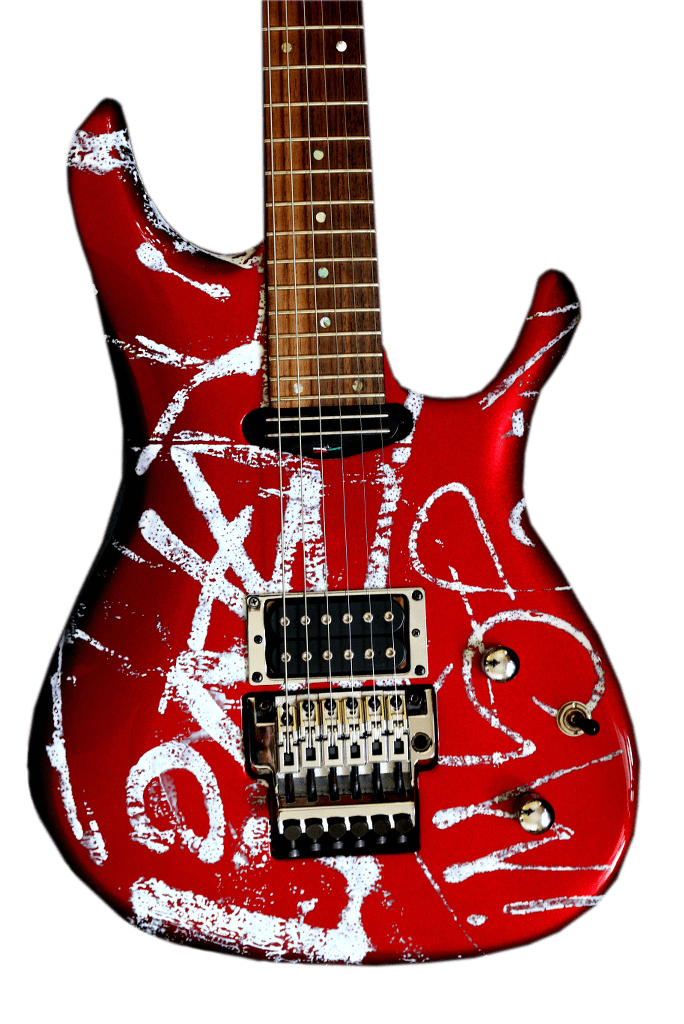 My story at
a glance
1992
In 1992 Susanne Montoro came to Berlin,
and has been working as a freelance Airbrush-Artist since then.
1993
In 1993 she introduced a completely new style called "OPTIK-DESIGN" and she had it patented in 1997. Her ten best drafts have been filed as representative samples and "MONT • ORO®" is registered as a brand at the German patent office.
The name Montoro comes from a city in Spain (Córdoba) and translates to "gold mountain". The coat of arms is a bull on a golden mountain.
MONTORO partial view with the bridge
over the Guadalquivir. XV century
MONTORO partial view with the bridge over the Guadalquivir. XV century
Business card frontal view
Business card frontal view
1995
In 1995 she became a member of IHK (Chamber of Industry and Commerce) and in the same year she began being involved in preparing trade show exhibitions. Her clients include Harley-Davidson, Ferrari / Maserati, BMW, Porsche, Toyota Motor Company, Bandit Helmets and Coca Cola…
2001
For the Ethnological Museum, S.Montoro took charge of the wall and canvas designs of a complete exhibition space for the exhibition "Ab durch die Wüste" (Through the Desert). She also designed a fashion collection on behalf of the Museum of Body Worlds to be worn at the Loveparade in 2001.
2003
In 2003 on the request of the fashion designer Jette Joop she created the prototype telephones fabricated by binatone.
Furthermore S.Montoro applied the finishing touches to the official plenary insignia for the German Bundestag at the Reichstag in Berlin, which decorates the front of the lectern at the German Parliament.
2004
In 2004 she received an entry in the "WHO IS WHO" encyclopedia listing Germany`s leading men and women.
2005
In 2005 she was engaged by the German Museum of Technology in Berlin to spray the stellar constellation "Orion" on differently arced, light panels made of Plexiglass.
Now even Hollywood is taking note of the Swiss woman with Spanish roots. In 2005, she was able to demonstrate her artistry in the WARNER BROS. PRODUCTION "V for Vendetta". In the Wachowski sisters' award-winning follow-up to the Matrix, she created the distinctive porcelain mask of leading actor Hugo Weaving. For the crowd scene at the end of the film, 460 "V" masks (crowd masks) were created under her direction as a supervisor in the London production halls.
2007
In 2007, her special paint applications were on show in the Hollywood movie "Speed Racer". Once again, she was able to impress WARNER BROS. PICTURES with her high-quality airbrush art and was once more recruited by the Hollywood production company. S.Montoro painted the racing driver`s helmet for the leading actor Emile Hirsch, as well as artistically producing countless other helmets and props for the creative movie using templates. For the five months she spent working on the film, this exceptional artist was justly rewarded in the "credits", because this time AIRBRUSH ARTIST: SUSI MONTORO (Costume and Wardrobe Department) was given a namecheck!
2008
For the movie "The Last Station" she decorated 14 identical crash glass plates.
In the entrance area of the newly extended Nelson Mandela School, the artist S.Montoro sprayed the portrait of Nelson Rolihlahla Mandela in impressionistic style. The two "kissing walls" designed by the architect were optically fused through writing and portrait using the airbrush technique.
2009
MTV engaged MONT•ORO for the commercial spot "MTV & KIA – Soul Club Tour". Four models were styled with various body paintings, with subsequent hairstyle and make-up by Make-up Artist J.P.
For the singer Loona, a Blackberry with an airbrush motif was created.
Commissioned by KROME Gallery, Susanne Montoro painted large-format wooden displays for the artist Markus Weisbeck (*1965, Offenburg). The two largest woodcuts in the exhibition "Do The Stars Need A Reason To Shine" were refined by S.Montoro using her particular airbrush technique. Graphical text images of poetically absurd invented words were sprayed onto wooden panels using a completely new method.
Since 2009, Susi Montoro has created countless objects d'art for renowned galleries, national and international art fairs for the American artistic duo Aids-3D (Daniel Keller and Nik Kosmas).
2009: Gallery MONTGOMERY in Berlin
2009: Artissima (the International Fair of Contemporary Art in Torino)
2009: think.21 Contemporary Gallery in Brussels
2010: Gallery Niklas Belenius in Stockholm
2010: ART FORUM Berlin (the international art fair)
2012: Gallery T293 in Naples
2013: New Galeria in Paris
2015: Kraupa-Tuskany Zeidler in Berlin
2018: K11 Art Foundation in Hong Kong
2010
ADC-SUMMIT | Art Directors Club for Germany
For the first time in many years, the creative meeting did not take place in Berlin but in Frankfurt/ Main. In the Green Towers of the DEUTSCHE BANK, S.Montoro designed a wall for the sector Architecture.
Metallica helmet for UNIVERSAL MUSIC / A Division of Universal Music GmbH
For the movie "The Three Musketeers in 3D"/ CONSTANTIN FILM, the Swiss airbrush designer painted the model ship "Buckingham's Airship". She used her spray gun to produce photorealistic imitations of the wooden planks.
2012
Berlin Fashion Week 2012: shoe paintings for the "Tomaszewski-Show"
In the spring of 2012, the airbrush designer sprayed Arthur Abraham's boxing shoes and show boxing gloves for the first time for the WBO European title fight in the super middleweight category in Kiel. On the occasion of the WBO World Championship fight in the super middleweight category in Berlin, more boxing shoes and show boxing gloves were created for King Arthur; these too were marked out using S.Montoro's airbrush technique.
For the "Promiboxen auf PRO7" (celebrity boxing on the TV channel PRO7), 2 boxing outfits were created for M.Schäfer, in which S.Montoro was also involved in the painting and designed, among other things, the red lacquer lettering for the silver fighter dress.
UEFA EURO 2012  Poland-Ukraine | 2012 UEFA European Football Championship:
Monster Inspiration Headbands – individually painted for the 20 most famous football stars in Europe. Monster Inspiration headphones are pure High-End-Audio and they become a completely personalized accessory together with the headband exclusively painted by Susi Montoro. This is how 100 special edition bands were designed for the 20 most famous football players, for example: C.Ronaldo, F.Ribéry, A.Iniesta, G.Piqué, Xavi, J.Boateng, M.Özil, A.Robben, M.Balotelli, W.Roonem, K.Benzema, R.Lewandowski, J."Kuba"B. …
2013
ECHO 2013:
On 21 March 2013 the 22nd Echo Awards took place at the Berliner Palais near the Berliner Funkturm. Helene Fischer presented the gala and for this event she was newly dressed by leather designer Daniel Rodan. S.Montoro coloured the matching shoes especially for the German schlager singer.
2012-2013 UEFA Champions League:
Monster Inspiration Headbands – exclusively painted for FC Bayern München.
2014
FIFA WORLD CUP  Brasil 2014 | 2014 FIFA Football World Cup:
Germany becomes the world champions thanks to Mario Götze's winning goal! MCM backpacks specially made for Götze, Ronaldo, Neymar, Balotelli, Dante, Shaqiri and Son. Exceptional airbrush technique by Susi Montoro.
A second edition of the "FIFA World Cup 2014" collection was again produced by hand on behalf of Variétiés for the MCM Museum in Munich.
A third edition of the "FIFA World Cup 2014″ collection was then made – again for the MCM Museum in Korea – and hand-painted. All 3 collections had to be identical!
Andreas Gabalier | UNIVERSAL MUSIC GmbH
On the occasion of Andreas Gabalier's 30th birthday, his very personal folk rock-'n'-roller helmet was created on behalf of his management Electrola.
2015
Berlin Fashion Week 2015: Bodypainting for the "100 years of Maybelline Show"
McDonald`s Burger Battle 2015 | Advertisement
Susi Montoro`s cooperation with the inflatable burgers: airbush tuning + interior installations of beef and fish burgers, as well as set support during the commercial shoot!
"Angelina" lettering on Frank Zander's newly made jacket.
2016
On behalf of Studio Lasse Brandt, a neon tube installation in the shape of a YES was specially built and airbrushed in rainbow colours. The illuminated lettering was sent to Hong Kong at the request of a Chinese art collector.
The Australian artist Técha Noble had an art helmet airbrushed by S.Montoro for the "Crystalline Forest" exhibition at Künstlerhaus Bethanien. In the same year, the helmet was exhibited at the Museum of Contemporary Art in Sydney. There it was staged as a commissioned performance for the 25th anniversary of the Australian Museum.
rbb RADIO BERLIN-BRANDENBURG
zibb Summer Garden | Guest of honour: Susanne Montoro presents some of her works of art and paints a canvas live.
Photorealistic child portrait on canvas for the Brazilian footballer Douglas Costa. Dot technique and unique painting style.
2017
Photorealistic portrait as a production final and t-shirt samples for the t-shirt printing template for the Argentine footballer Paulo Dybala.
2018
Photorealistic portrait for the French rapper Booba – Trône
FIFA WORLD CUP  Russia 2018 | 2018 FIFA Football World Cup:
Photorealistic portraits | Airbrush customisation for Neymar, Modrić, Pogba, Jesus, Mané, Draxler, Mbappé, James, Shaqiri, Perišić, Fabián …
The artist Gregor Hildebrandt had various bronze chess pieces painted several times by the airbrush designer Susi Montoro with amazingly realistic wood imitations. This year for Galerie Perrotin, exhibited in New York in the USA.
Buddy Bear for the former Finnish ice hockey goalkeeper Petri Vehanen.
2019
One-day airbrush tattoos with motifs of the video game "Sea of Thieves" for the international gaming fair "TwitchCon 2019" in Berlin.
Copa América 2019:
Photorealistic portrait image composition for the Argentine football star Lionel Messi.
More photorealistic portrait artworks were created for Ivan Rakitić, Memphis Depay, W.Zaha, I.Perišić, S.Mané, L.Insigne, Lazaro, K.Benzema…
2021
UEFA EURO 2020 | 2020 UEFA European Football Championship:
Photorealistic portraits | Airbrush customisation for Luka Modrić, Romelu Lukaku, Hakan Çalhanoğlu and Ivan Perišić.
and much more…
in the future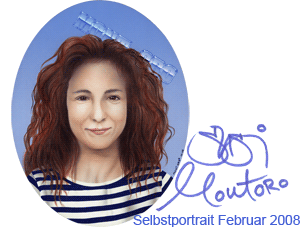 Location
Airbrush-Design
MONT • ORO®
Susanne Montoro
Birkbuschstraße 47
12167 Berlin 
Germany